Main content starts here, tab to start navigating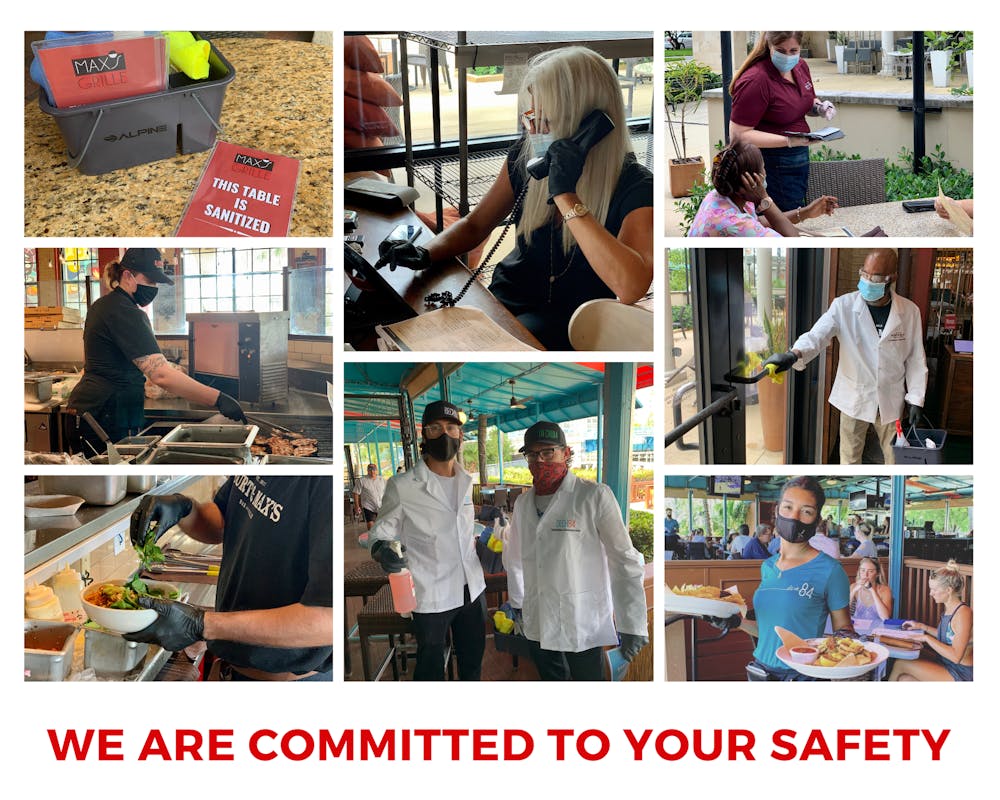 It's extremely important to us that our staff and guests feel safe and comfortable in our dining establishments.
We are constantly evaluating and enhancing our protocols as we navigate through these times. One thing that won't change? Our commitment to your safety!
Our ever-evolving list of protocols include:
Social Distancing Tables in the dining room and outdoor patio spaced 6ft apart.
Team member wellness checks - taking temperature checks of all employees before they begin a shift and asking about symptoms. Testing available for our staff and arranged through HR, if necessary.
Enforcing facial coverings for ALL guests and staff as soon as they arrive and when moving about the restaurant. Guests may remove coverings when seated at a table.
Sanitation - sanitizing tables and chairs after each use, sanitize all touchable surfaces throughout the restaurant continuously, and sanitize restrooms.
Using QR code touchless menus or one-time-use disposable menus
Training & Education - Every employee has completed a COVID-19 Restaurant Sanitation & Safety workshop along with daily shift meetings discussing protocol enhancements, reminders & COVID updates from CDC, WHO, John Hopkins Hospital, Florida Restaurant & Lodging Association, etc.
We are ready to serve you safely!
With limited seating available, reservations are advisable.
Plenty of outdoor, covered or shaded seating spaces.
WHAT OUR GUESTS ARE SAYING...
Patricia S.
Good food and excellent cleaning and social spacing, Felt safe
Amy T.
We enjoy eating at prezzo and feel they are doing a good job of making you feel comfortable during the pandemic. We will definitely go back.
Debra R.
Great job social distancing! Servers excellent job!
Aly K.
Great food, great service and very conscious of keeping tables apart and all workers wearing masks and fives while tables continuously being sanitized. Already made a reservation for next Friday as we enjoy the open air and live music
Cyndi B.
Bill our server was excellent! We felt very comfortable dining there during this Covid crisis. Everything was very clean.
David S.
Great food a service with a focused approach to mitigating the Corona risk.
Kwit
Always enjoyable !
They followed all COVID guidelines
Happy Hour drinks at 50 off is great value
Great for casual dining
Jane L.
We LOVE LOVE this restaurant!!! Perfect for social distancing (ate outside), EXCELLENT food, happy hour and service. Kyle (our server) was AMAZING; we go once a week and will continue to do so....they try very hard to make it work during these difficult times and they do an EXCELLENT job! Their take out is also FANTASTIC!!!! Great prices, great portions and great food!!! Even after Covid we will frequent this restaurant...(btw, the wings, burrata and Brussels sprouts are SOOO DELICIOUS!)....
Janis C
We just moved to the area so it was our first time at Prezzo, and it won't be out last. Tables were socially distanced and all four of us felt really safe. Matt, our server was exceptional. He made our dining experience very enjoyable. E4Saving the best for last. The food was exceptional and was so much food we have dinner for the next day!!! Really a marvelous restaurant and we will definitely be back
Paula S
Prezzo has done a superb job of adjusting during these COVID-times. Same great food, attentive staff, online menus, outdoor entertainment and great outdoor seating. Our go-to place these days.